More than nearly any other question we have examined on this blog, this is a question that I am probably asked the most. Many have asked this question, usually because said person believes their loved one(s) are in Heaven and wish to understand whether or not they will know one another. Is there a biblical answer to this question, or is it someone we will have to hope and guess on our own? When the saved get to Heaven, will they remember their life on Earth, and will they remember their friends, family, the like? (Photo credit to: Mark Mallett)
From the start, we need to understand that, yes, we will know and remember each other in Heaven. There are several Scriptural evidences for this, some are minor, some are hard to ignore. Let us examine a few enlightening passages. In 2nd Samuel 12:23, David is mourning the loss of his and Bathsheba's first child, we read: "... I will go to him, but he will not return to me." In this passage, David is showing that he may go to his son, but his son cannot be brought back to life.
Luke 15:7

and

10 illustrate an important point. Here, Jesus is plainly saying that the the angels in Heaven rejoice when a sinner is saved. By this we know that they know when a sinner is saved; they know what is going on here and who is here. In 1st Corinthians 13:12, Paul makes it clear that we will actually know others better than we do now, "For now we see only a reflection as in a mirror; then we shall see face to face. Now I know in part; then I shall know fully, even as I am fully known."
1st Thessalonians 2:19-20 says, "For what is our hope, our joy, or the crown in which we will glory in the presence of our Lord Jesus when He comes? Is it not you? Indeed, you are our glory and joy." Here, Paul acknowledges that in Heaven, he will have extra joy and rejoicing by meeting those Christians which he won to Christ, in the presence of Jesus at his coming and after that. Be that as it may, this indicates that Paul would have to know those who he had won, in order to rejoice over them and with them.
In 1st Thessalonians 4:16-18, Paul discusses the Second Coming of Jesus. He writes, "... and the dead in Christ shall rise first: Then we which are alive and remain shall be caught up together with them in the clouds, to meet the Lord in the air: and so shall we ever be with the Lord. Wherefore comfort one another with these words." As we may notice, there is comfort because those who have already died and those who are still alive to meet Jesus when He comes will be caught up "together." This is supposed to be a "comfort," which would show that we will know each other.
I digress for a moment. The topic of after-death must be addressed. As I have stated before, upon death, we enter into either Heaven or Hell. Why then do I insist on a resurrection? Would this not mean that we would "sleep" until the Second Coming? Not at all. Scripture makes it clear: our spiritual body goes to Heaven or Hell, and our physical body stays six feet under. But at the resurrection, all physical bodies, even if destroyed, will be restored, and the spirit and physical body will be merged once more, this time the physical body - for the saved - will be glorified. Perhaps this helps to clear up misconceptions.
Though not often, the Bible does in a few cases tell about people on the Earth meeting people who had gone to Heaven. In these instances, it is clear that those who had gone to Heaven knew the person still on the Earth. For example, when Samuel had the Witch of Endor call up Samuel, and God intervened, bringing up the actual Samuel, Samuel recognized and remembered Saul. (1st Samuel 28:13-15, See entry: "Ghosts: Do You Believe In Them?") Saul knew Samuel, and conversely.
Another instance is the very important Transfiguration of Jesus. During His Transfiguration, both Moses and Elijah appear, and talk with Jesus about His death in Jerusalem. (

L

uke 9:27-34) Peter, James and John were also on the Mountain with Jesus. The text makes it clear that even though Peter had never met Moses or Elijah (they lived centuries before his birth), Peter recognized them. He said to Jesus, "Master, it is good for us to be here. Let us put up three shelters - one for you, one for Moses and one for Elijah." (Luke 9:33, see entry: "The Transfiguration")
In Hebrews 12:1-2 we read,
after the previous chapter which discusses the great heroes of faith (such as Moses, Noah, Enoch, etc), that we are surrounded by "so great a cloud of witnesses." Apparently, the saints in Heaven know us and look on with great interest. This particular verse may not be the most elaborate, but that appears to be what the text indicates. (See entry: "Faith In Action")
But perhaps one of the best evidences comes from Luke 16:19-32. Jesus is conveying to us the true account of a rich man, a beggar named Lazarus, and Abraham.
Lazarus always begged for food, but the rich man denied it. When the rich man died, he went to Hell, and when Lazarus died, he went to paradise. (Not yet heaven, see entry: "The Location of Hell: The Harrowing of Hell") The rich man in Hell knew Abraham when he saw him in Paradise, and recognized Lazarus, who had just died. (Luke 16:23) In Heaven, we will see as well as the man in Hell did, and will remember our life as the man still knew about his five brother and wanted them saved.
Consider 1st Thessalonians 4:13, which says, "But we do not want you to be uninformed, brethren, about those who are asleep, that you may not grieve, as do the rest who have no hope." This does not agree with soul sleep, and is not the point. The point is, why would Paul comfort them regarding the resurrection if they would not recognize each other? There would be no point, and by this we see that again, we will know each other.
Matthew 8:11 says, "

I say to you that many will come from the east and the west, and will take their places at the feast with Abraham, Isaac and Jacob in the kingdom of heaven.

" (NIV) Two points about this specific verse. If none of us recognized one another, how would this verse come to fruition, and what would be the point of names if we do not know each other? Clear indications once again.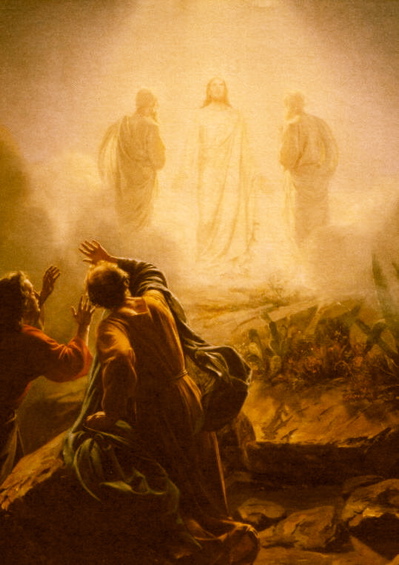 Another verse to consider would be Matthew 12:38-41. Verse 41 says, "

The people of Nineveh will stand up at the judgment with this generation and condemn it; for they repented at the preaching of Jonah, and now one greater than Jonah is here.

" (NIV) Mike Scott of ScriptureSays.com puts out a few bold questions:
"
1) Produce ONE passage that teaches we won't recognize each other in the next life.
2) If we don't recognize each other, then wouldn't we think we were the only ones that made it?
3) Will we recognize our own selves? How will we know it is true?
4) Explain how we can be like Jesus and be without our memory faculty.
5) From evidence of Scripture, is there more proof for believing that we will be able to recognize each other, or is there more teaching that we will not?
6) If God were to do nothing but raise my body, and make a being out of it that is not me, and put it up in heaven, why should I be interested any more than if God were to make that being out of a dead animal?
7) How could we praise the Lord for our redemption and salvation from sin in this world, unless we would remember we were once lost, and had been saved?
8) To say that we will become beings without our former faculties is to believe the doctrine of materialism that teaches extinction of man's being.

"[1]
The above Scriptures clearly support the notion that we will know each other - including friends and family - in Heaven, and that we will actually know them better than we do now, and will remember our life on Earth. Another (cautious) point to consider is the purported Near-Death Experiences. Now, many readers will understand my position on NDE's, that many of them, specifically the reports of seeing a being of light which tells the man or woman that all paths lead to him and that there is no Hell nor demons, are credited to Lucifer, who disguises himself to lead others astray, and certainly convinces many.
However, not all of the reported NDE's (especially the ones centered around Hell) are this way. For example, many report seeing famous biblical figures such as King David, Abraham, and even Elijah. Take John Bunyan for example - who had an OBE (Out-of-Body-Experience). John Bunyan was a Christian author who lived in the 17th century. Bunyan wrote over 40 books, the most famous of which is Pilgrim's Progress. What some do not know is that Bunyan claimed to have had a vision.
Bunyan was taken first to Heaven then to Hell to give an account to the world, as he was previously about to end his life in a forest; an atheist friend of his had him nearly persuaded that life was meaningless. But God intervened, sending an angel to allow Bunyan to begin his long life of writing. While Bunyan was in Heaven, according to his written account, he met the prophet Elijah. (See 1st Kings 19-2nd Kings 1) According to the text:
"

Swift as thought he conveyed me past thousands of angels, and presented me to that great saint, the prophet Elijah. Though he had lived in the world many hundreds of years ago,

I knew him at first sight

. 'Here is one,' said my conductor to Elijah, 'who by the commission of the Imperial Throne has been permitted to visit these realms of light, and I have brought him to you, to learn from you.'

"[2]
Elijah and an angel proceed to tell Bunyan that yes, people do know each other in Heaven. As noted in the above text, without introduction, upon seeing Elijah, Bunyan "knew him at first sight." How could this be so unless we know each other in Heaven? It is possible of course that Bunyan's account is a faux account, but not likely. Regardless, it is the Bible we are to stand on, not outside accounts, though Bunyan's account gives extra-biblical credence.
Therefore, we can say with certainty that we will know each other in some fashion in Heaven. The above verses indicate that we will know each other by name, that we will retain at least some of our memories, and that yes, we will know each other better than we do here on Earth. Some may argue against this, which is understandable, but it appears that with this basis, we will know each other and remember each other in Heaven.
Thank you for taking the time to read this entry of "The Truth." Feel free to comment below (yet remain civil, please), email me personally at vexx801@yahoo.com or our ministry team at thetruth.ministryweb@gmail.com, visit our facebook, or visit our Ministry website. Take care, dear reader, and may God bless. Troy Hillman
Sources:
[1] Scott, Mike. "Will we know each other in heaven?." What Do The Scriptures Say?. Mike Scott and ScripturesSay.com, n.d. Web. 7 Feb 2011. .
[2] Bunyan, John. Visions of Heaven and Hell. Chapter 3.