D
id Jesus eat meat? For many people, you are probably wondering what any of this has to do with us. A good and dear friend of mine had questions about this sort of thing, and once I did a bit of research, I noticed that there was an interest in this subject. Therefore, it is a valid topic, and ought to be covered, given the context we are going to look at it in. The question goes a bit like this, and a valid question it is indeed: "In Genesis, God tells us that man and creature alike did not eat meat, in God's perfect world, but plants and vegetation. To be a good Christian, ought we follow this? Also, since Jesus is God, did he eat meat when he was on the earth?"
I think it best to look at this first, in its narrative. In the first chapter of Genesis we read, "I give you every seed-bearing plant on the face of the whole earth and every tree that has fruit with seed in it. They will be yours for food. And to all the beasts of the earth and all the birds in the sky and all the creatures that move on the ground - everything that has the breath of life in it - I give every green plant for food." (
Genesis 1:29-30
) Later, following the flood narrative, "God blessed Noah and his sons, saying to them, 'Be fruitful and increase in number and fill the earth. The fear and dread of you will fall on all the beasts of the earth and all the birds in the sky, on every creature that moves along the ground, and on all the fish in the sea; they are given into your hands. Everything that lives and moves will be food for you. Just as I gave you the green plants, I now give you everything." (
Genesis 9:1-3
)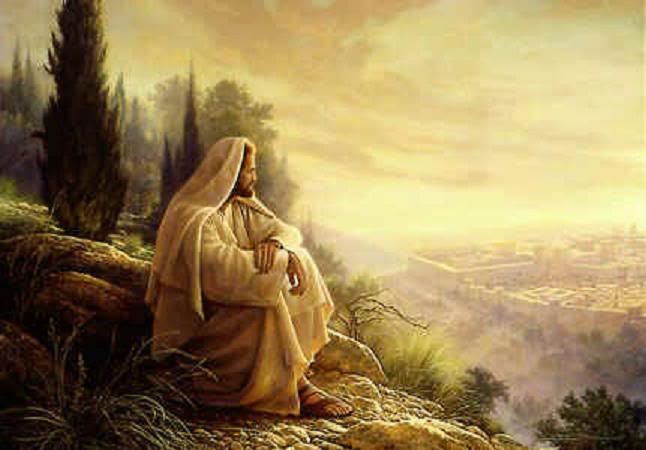 That being said, is it wrong for us to want to eat meat, should we, as Christians, be vegetarian? You can be, but God provided us with more food sources, and all depending on personal preference, there is nothing biblically wrong with eating meat.The question was also asked, "Did Jesus Eat Meat?" If the Son of God did not eat meat, it would mean we ought not to also. However, that is not the case. Take
John 21
, for example. After his resurrection, Jesus had his disciples cast out, and when they caught fish, and returned to shore, there he was, ready with a fire for cooking. We are told that they ate the fish - which is meat. Another instance would be Passover.
Passover has not changed its traditions since the Exodus. Traditionally, Jews took a lamb or goat and ate them during Passover dinner. We are told that Jesus kept the Passover laws, and as such, he ate lamb, or goat - which is also meat. Passover is a Holy day which celebrates the Exodus of the Israelites from Egypt. It was a commanded assembly. You can find the full regulations are detailed are given in
Exodus 12
. In basic terms, on Passover, a lamb was killed and roasted.
Exodus 12:3,5
says, "Speak to all the congregation of Israel, saying, In the tenth of this month they shall take to them each man a lamb for a father's house, a lamb for a house... Your lamb shall be without blemish, a male of the first year. You shall take from the sheep or from the goats."
While yes, it is true that what Jesus and his disciples ate could have been a goat or even a sheep, it was most likely a lamb. The celebration of Passover for Jews is still in effect - unlike much of the Ceremonial Law found the first five books of the Bible, when Jesus died, Passover was still in effect. His death and resurrection did not negate the importance of the Passover. In fact,
Exodus 12:14
says, "And this day shall be unto you for a memorial; and you shall keep it a feast to the LORD throughout your generations; you shall keep it a feast by an ordinance forever. You must celebrate this day as a religious festival to remind you of what I, the LORD, have done. Celebrate it for all time to come."
The long and short of it is, yes, Jesus did eat meat - even if he did not have lamb, goat, or sheep, he ate fish. However, if he did not eat at Passover, he would be breaking the Passover laws, and we are told that these he kept. We can come to the logical conclusion that Jesus was not a vegetarian. It is from this that we can understand that Christ is our Passover lamb.
1st Corinthians 5:7
says,
"You must remove the old yeast of sin so that you will be entirely pure. Then you will be like a new batch of dough without any yeast, as indeed I know you actually are. For our Passover Festival is ready, now that Christ, our Passover lamb, has been sacrificed."
Jesus ate Passover lamb, he was our lamb, and he is the Lamb of God, who takes away the sins of the world. He can take away our sins if we only confess with our mouth, "Jesus Is Lord," and if we believe in our heart that he is risen from the dead, we will be saved. Pray for forgiveness of sins daily, as we sin daily, and try to spread truth wherever possible, just as Jesus commissioned us. (
Matthew 28:16-20
)
Another dear friend had pointed out
Romans 14
. Here is the text, take from it what you will, dear reader. "
Accept those whose faith is weak, without quarreling over disputable matters. One person's faith allows them to eat everything, but another person, whose faith is weak, eats only vegetables. The one who eats everything must not treat with contempt the one who does not, and the one who does not eat everything must not judge the one who does, for God has accepted that person." (Romans 14:1-3)
"Who are you to judge someone else's servant? To their own master they stand or fall. And they will stand, for the Lord is able to make them stand. Some consider one day more sacred than another; others consider every day alike. Everyone should be fully convinced in their own mind. Those who regard one day more sacred as special do so to the Lord. Those who eat meat do so to the Lord, for they give thanks to God; and those who abstain do so to the Lord and give thanks to God. For we do not live to ourselves alone and we do not die to ourselves alone." (Romans 14:4-7)
"If we live, we live to the Lord; and if we die, we die to the Lord. So, whether we live or die, we belong to the Lord. For this very reason, Christ died and returned to life so that he might be the Lord of both the dead and the living. You, then, why do you judge your brother or sister? Or why do you treat your brother or sister with contempt? For we will all stand before God's judgment seat. It is written: ' As surely as I live,' says the Lord, every knee will bow before me, every tongue will confess to God.' So then, we will all give an account of ourselves to God." (
Romans 14:8-12
)
"Therefore let us stop passing judgment on one another. Instead, make up your mind not to put any stumbling block or obstacle in the way of a brother or sister. I am convinced, being fully persuaded by the Lord Jesus, that nothing is unclean in itself. But if anyone regards something as unclean, then that person is unclean. If your brother or sister is distressed because of what you eat, you are no longer acting in love. Do not by eating destroy your brother or sister for whom Christ died." (Romans 14:13-15)
"Therefore do not let what you know is good be spoken of as evil. For the kingdom of God is not a matter of eating and drinking, but of righteousness, peace and joy in the Holy Spirit, because anyone who serves Christ in this way is pleasing to God and receives human approval. let us therefore make every effort to do what leads to peace and to mutual edification. Do not destroy the work of God for the sake of food. All food is clean, but it is wrong for a person to eat anything that causes someone else to stumble. It is better not to eat meat or drink wine or to do anything else that will cause your brother or sister to fall." (
Romans 14:16-21
);
"So, whatever you believe about these things keep between yourself and God. Blessed are those who do not condemn themselves by what they eat, because their eating is not from faith; and everything that does not come from faith is a sin." (
Romans 14:22-23
) This chapter is a good passage to refer to when issues food-related arise.
Troy Hillman